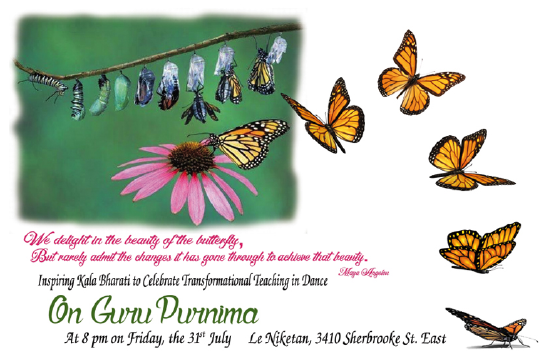 Discussions on the transformational nature of the Guru-Shishya parampara tradition.
The following note was prepared by Dr. Harbans Nakra as a personal perspective on the transformation of Bharata Natya during its renaissance period and the role of Mamata Niyogi-Nakra's work at Kala Bharati (Montreal), in this transformation.
As we prepared for our discussions today, I thought it would be relevant to give an overview of the transformations that Bharata Natya has gone through over the last 85 years since the start of its renaissance.
The first set of activities that led to the rebirth of Bharata Natya started in the late 1920's in Madras. The dance was then called Sadir and was essentially performed by the Devadasis in temples and at special private occasions sponsored by patrons of the temples. By the mid twenties, the Devadasi System had acquired a bad reputation and a strong pressure built-up to abolish the practice of sponsorships of Devadasis. E.M. Krishna Iyer, a lawyer by profession and an ardent fan of the dance then stepped into the fray with his now famous call: "let's not throw away the baby with the bath water." After vociferous arguments and debates Mr. Krishna Iyer won his point and in 1932 the Madras Music Academy accepted to support and promote dance in its programmes. An important point used by Mr. Iyer in his arguments was to link the dance in its origin to Bharata's Natyashastra, the ancient treatise on Dramaturgy. In those days of fervent nationalism, this made a powerful connection with the political leaders, who readily lent their support to his cause. In the days leading up to the recognition by the Dance Academy, Krishna Iyer, in his discussions with two young associates, Mr. V. Raghavan, a Sanskrit scholar, and Miss Rukmini Devi Arundale, suggested that the dance be given a new name. In view of the connection with the Natyashastra, the choice was easily agreed and the dance was rechristened Bharata Natyam or Bharata Natya.
The arrival of Rukmini Devi in the milieu of Krishna Iyer's supporters, with her keen interest to learn the art of dance, was enthusiastically welcomed. She was from an upper class of the Madras society and Krishna Iyer thought that her presence would lend respectability to the art and help to persuade other young girls from middle class families, to take up this art. Little could he have imagined at the time that this young girl would give his movement a quantum leap forward. In 1936 she founded, with her theosophist husband Dr. George Arundale, an academy for promoting traditional values in Indian arts, in particular Bharatanatyam, which became the internationally recognised institution called Kalakshetra.
This was the next stage of the renaissance of Bharata Natya. The institutionalisation of the teaching environment was a major transformation with the introduction of many changes in the training and performance practices of Bharatanatyam. Rukmini Devi invited well-known gurus to teach at Kalakshetra, including Guru Pandanallur Meenakshisundaram Pillai from whom she herself learnt the Pandanallur style of the dance for a couple of years. She introduced changes in the dresses of the dancers, started the practice of having the accompanying musicians sit on the side of the stage instead of standing behind the dancers, and choreographed many theatre-like ballets presenting dramatic stories from the epics. She is particularly known for her de-emphasing the erotic elements of Bharatanatyam. All things considered, her contribution was a major overhaul of the aesthetic aspects of Bharatanatyam.
The next major transformation of Bharatanatyam started when an educated, brahmin couple, decided to learn and practice the art of Bharatanatyam. They did so notwithstanding some ferocious opposition from their society elders, including some threats on their lives. They were the now famous couple, U.S. Krishna Rao and Chandrabhaga Dev of Bangalore, and the Guru they went to was the same Pandanallur Meenakshi Sundaram Pillai. They choreographed many new Bharata Natya items and, given their educational background, also wrote a number of books on the dance, both in Kannada, their native language, and in English. Among the latter, their books "A Dictionary of Bharata Natya" and "A Panorama of Indian Dances" are very well known.
At the termination of their training with Guru Meenakshisundaram Pillai, they were mandated by him to go out and spread this art all over the world. This is exactly what they have done through hundreds of lecture-demonstrations, both in India and abroad. They spent two years touring various parts of the U.K. for lectures, demonstrations and workshops, under the aegis of the Royal Asiatic Society of Great Britain. Their tours abroad included a number of visits to North America, one them being the memorable one in 1980 when they re-established contact with their earlier student Mamata Niyogi who was teaching Bharata Natya in Montreal..
Guru Krishna Rao's lectures were very popular because of his thorough knowledge of the subject, both practical and theoretical, laced with charming doses of humour.
Following these stalwart promoters of Bharatanatyam in the early years of its renaissance, there was a phenomenal growth in the number of dancers and teachers all over India and overseas. In this crowded field, the transformational stature of Mamata's work stands apart, recognised by critics and connoisseurs in India and abroad. This recognition, often with marked enthusiasm, has manifested over the years, in particular following her many achievements. Let me list some of these chronologically.
The first instance of this recognition was the unanimity of the praise from dance critics of all the daily news papers of New Delhi, of her choreography in group forms of traditional Bharata Natya items from Alarippu to Tillana, which followed after the presentations by La Troupe Kala Bharati, in New Delhi in 1989. Many claimed such choreographies had never been seen before, with one commentator remarking: "It shows that one does not need to infuse the ancient form with anything modern or foreign" – a thinly veiled allusion to the work of a well known choreographer gaining increasing recognition at the time. Adjoining their praise for her choreography was their high regard for the level of her training. As one critic observed: "The great Pandanallur style of Meenakshisundaram Pillai, from whom Mamata's gurus, U. S. Krishna Rao and his wife U. K. Chandrabhaga Devi learnt, was there in its pristine strength and clarity."
The next occasion for such recognition came with the production of her original thematic group choreographic work "Seasonscape" which was chosen by Doordarshan (Indian National Television) for inclusion in its national programme marking the Golden Jubilee celebrations of India's Independence in 1997-98, telecasting it on Independence Day in 1998 following the Prime Minister's speech to the nation.
Following that, in the year 2000, in an hour long Doordarshan presentation of an historical overview of the Indian dance-scene in the last half of the 20th century, the producer had included a five minute extract of Seasonscape, along with, according to one well known observer, "a listing of noteworthy names, trends and developments that have impacted on the classical dance scenes in India over the past fifty years."
Mamata's next major contribution to Bharata Natya was the publication of her book "Shishu Sadhana"- a child friendly Bharata Natya repertoire. This has been received by critics and dancers/teachers as a major innovative contribution to Bharata Natya. They have expressed their appreciation in various ways using words like 'landmark', 'phenomenal', 'pathbreaker', 'Nritya Yagna', to describe what they found Shishu Sadhana to be. Today, a good five years after its publication, we are still receiving requests for the book.
Mamata's interest in dance for children is long standing. As a member of the organization "Dance and the Child International" (daCi), she has attended and made presentations at many of their international meetings. These meetings inspired her to work on conceiving and choreographing items in Bharata Natya which she used and developed in her regular dance classes for children in Montreal over many years. When Shishu Sadhana came out, some of her senior students recognized many of the items they had practised in their earlier classes. Her interest inspired me to look at the benefits of dance for children from a scientific perspective, resulting in my book "Place of dance in whole child education- a scientific perspective." This book has been well received by many academics and especially welcomed by many members of daCi.
In more recent times, Mamata has been working on defining the basic movements of Bharata Natya, the adavus, using a scientific approach in discussing their physical structure in terms of the physics of dance and equally invoking the concept of ergonomics. She was recently invited to present her work in this field by a prestigious organization in New Delhi, the India International Centre. Many important dancers and scholars of New Delhi attended the presentation and at the end profusely praised her work as yet another of her innovative ventures in Bharata Natya. This project is not yet completed but should be soon.
Mamata's efforts to reach out to the Quebec community of artists and promoting Intercultural sharing, has also been very well received. One outstanding example of this came in 1992 when the artistic director of Place des Arts invited our troupe to be part of the Open House programme inaugurating their season 1992-93. The Kala Bharati presentation was in Salle Maisonneuve (1400 seats) and it was packed to capacity. Many waiting in line to enter had to be turned away. The response of those who attended was extraordinary with the applause lasting long minutes calling the performers to take repeated bows, notwithstanding the frustration of the technicians who were struggling to maintain their timetable for the next group.
Her most recent contribution to promoting this art is the work she has been doing over the last four years with a Kolkata based dance teacher called Arnab Bandyopadhyay. He has been practising and teaching the Odissi style of dance for over fifteen years in Kolkata. He had learnt Bharata Natya and did teach it but his heart was not in it and he was on the verge of giving up that part of his teaching. Then in 2006 he was introduced to Mamata by Sanjib Bhattacharya, a friend of his, who had had some experience of learning from her during a short visit to Kala Bharati. Some of you might remember him from his visit in 2003. Their brief encounter gradually developed into his determination to learn the Bharata Natya style practised at Kala Bharati. Starting in 2009 he has come to Montreal every Summer and taken lessons from Mamata. In 2013 he performed at the Maison de la Culture, Plateau Montreal, to appreciative applause, and a few months later in Kolkata (February 2014) as part of Kala Bharati's celebration of Guruji's Centennial birth anniversary.
Seeing his performance, other dance teachers in Kolkata have decided to follow his steps and have determined to adopt the Kala Bharati legacy in their schools. You might say now that the Pandanallur style of Bharata Natya has taken roots in Kolkata.
All that is to say that Mamata's work is highly regarded and considered of superior quality in India. The letter from Utpal Bannerjee being distributed along with this note, also confirms that.
It is also being increasingly well recognized in many quarters in the Quebec community in the arts world and by those who believe in cross cultural communication as evidenced by repeated Full House attendances at the various presentations in the city over the last more that 30 years. Mme Carole Poirier, our Deputée to the Quebec National Assembly, has often expressed her regard for Mamata's work and is encouraging her to participate in Montreal's 375th anniversary celebrations coming up in 2017.
In appreciation of her work and as a permanent record, la Bibliothèque de danse Vincent Warren, has graciously agreed to house all material related to the work of Kala Bharati, as part of its collection. The transfer is scheduled to take place in 2017, as part of Kala Bharati's part in Montreal's 375th anniversary celebrations.
In conclusion, I would like to say that Mamata is the first to say, nay insist, that the work for which she has received all the accolades is not hers alone but that of Kala Bharati as an institution including the total and generous support of the directors. The support for Kala Bharati has come from many, including the Gurus, the musicians, the visiting teachers and scholars, the students and members of the Troupe and their families with their whole-hearted participation and hard work, and also from many of the local dance community with their offering of constant encouragement and support.
The inputs from all these sources, has given Kala Bharati the character of a transformational Center for Bharata Natya, away from home but creating a home in the land of the maple leaf.
Michel Laverdiere , Murari to us, has singularly been a source of help and inspiration for Kala Bharati since its foundation. On May 18th at a recent meeting of Kala Bharati here, he said something to Mamata as he was leaving after the meeting, which has impacted both her and me. "You should write your story…. Even if a Quebecer does not know you or your work, he will find your story very interesting. I will be with you, by your side as you write the story of Kala Bharati."