This year, International Dance and Child (daCi) conference will be held in August at Kingston, Jamaica. Dr. Mamata Niyogi Nakra, dancer-choreographer and Director of Kala Bharati, Montreal, Canada will be presenting her paper and lecture-demonstration: 'Getting to dance the Snake.'
Among my many dancer friends, Mamata Niyogi-Nakra, has devoted detailed and meticulous attention to dance training for children. She has put her thoughts in a book form with illustrations and she takes the reader gently into her creative journey, in reader friendly text. The book Shishu Sadhana and the DVD accompanying it has been a result of more than a quarter of a century's involvement with teaching Bharata Natya in Montreal.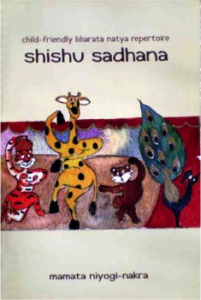 Trained by Prof. US Krishna Rao and UK Chandrabhaga Devi, disciples of legendary Pandanallur Meenakshisundaram Pillai, Mamata's performing career as a solo dancer in India, came to an abrupt end on account of an injury to her arm. However, when she moved to Montreal, she started teaching Bharata Natya at her institution Kala Bharati. She developed a unique method of training her students and transmitted the Pandanallur 'bani' to the young students of Indian Diaspora in a remarkable way.
When I visited Montreal in 1980, after attending a dance conference in Toronto and saw her work, I was very impressed. One of her prize pupils was a Canadian male dancer Jai Govinda whose training was so thorough that one wondered how Mamata imparted training so successfully in an alien country to an alien young dancer, and not only that,  she also had a large number of disciples. I enjoyed one of Mamata's Haikus she wrote on the occasion of her Guru US Krishna Rao's 90th birthday, quoted in the beginning of the book:
in an alien soil
sprouting amidst maple leaves
age-old tradition
I shall write about Kala Bharati (http://kalabharati.ca) and several other aesthetic encounters with Mamata and her husband Dr. Harbans Nakra in a separate article. But back to the book Shishu Sadhana and the accompanying DVD.
Mamata mentions: "One day, as I was going about my morning routine while listening to Radio Canada, I was suddenly struck by a piece of music I had not heard before. It was  'Le Carnaval des Animaux' by French composer Saint- Saens. The evocative piece conjured up images of dancing animals in my mind's eye and I thought how exciting it would be to choreograph a traditional Bharata Natya piece using animal movements."
She used the available Paras raga tillana music and choreographed a number which in  Kala Bharati parlance is called as the 'animal tillana' and was extremely popular with children. The children enjoyed executing the movements of the peacock, the elephant, the crocodile, the deer, the snake etc.
Mamata realized that the learning was easier and faster when children were enjoying the movements and could relate to them and that the animal movements come naturally to children. Further reading of anthropological studies led her to believe that dance movements have evolved from animal movements: jump, leap, glide, roll, run, and stamp in dance. It was further confirmed when  she met Seraikella Chhau exponent Shashadhar Acharya, who demonstrated  the various 'Uflis' and 'Topakas' inspired from the movements of animals.
Mamata created a pada called 'The Doll Story' in which relationship between a child and her doll is exploited to highlight the experiencing of the nine emotions, Navarasa, at a level that the child can comprehend.
Mamata ran Kala Bharati centre where she trained a number of students and succeeded in forming a professional troupe of dancers.  When the troupe with Mamata and Dr Nakra visited India, they won the hearts of Indians, who were pleasantly surprised seeing the very high standard of training Mamata had imparted to the young disciples, far removed from India. When I saw their dance, I wrote enthusiastically that perhaps the excellent level of Bharata Natya will be found not in India but in Montreal. Other critics also echoed my impressions. As observed earlier, despite an injury to her arm, even when she had given up dancing, she evolved a methodology of training dancers that established Kala Bharati's reputation and hers as a brilliant choreographer.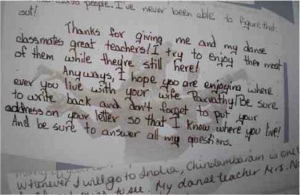 During all other projects, over the  years the idea of choreographing age-appropriate and child-friendly Bharata Natya repertoire remained with her and she proceeded step by step receiving help from various quarters, scholars, critics, musicians, and the most important, the children who studied dance at Kala Bharati. Says Mamata: "I wonder if I could have ever come up with a child friendly Bharata Natya repertoire had it not been for those tiny hands that wrote so many imaginative notes, the curious ways in which their young minds worked, the spontaneous responses which the dance lessons elicited from them, the unconventional movements their bodies executed, the unadulterated gaze with which they perceived the world around them, the infectious joy and the beaming smiles that greeted everything they were learning in their Bharata Natya classes. The 'Letter to Lord Nataraja' has formed the basis for another pada in this repertoire."
I remember Mamata showing those writings and notes during my visits to Montreal. Her assiduous work has resulted in this rare repertoire, which if followed by various schools and teachers interested in training children in dance, would benefit them immensely. Mamata's participation in the activities of the international organization Dance and the Child International (daCi) in London in 1988 opened up for her a new perspective in training children. Further participation in the daCi European Summer Camp in the Netherlands in 1996 and the Regina (Canada) conference (daCi 2000) widened the horizons in the field of teaching dance to children. Her husband Dr. Harbans Nakra's support was total and his paper 'The Place of Dance in Basic Education' enhances the need for such training. The response the couple received from dance teachers and educators from all over the world made Mamata create this repertoire which has many distinct features.
The detailed notes, sketches, quotations from children's writings, the discussions with teachers,  students, scholars, musicians, the selection of songs for the repertoire in different Indian languages for numbers like shabda, varna, pada and also special music compositions  of Alarippu, Jatiswara, Tillana, Aradhana, all have been meticulously worked out with great patience and considerable thought.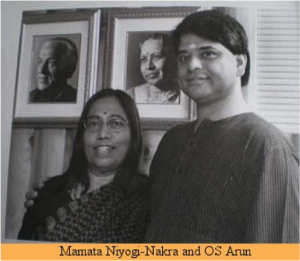 For music, Mamata received unstinted support from OS Arun, the gifted vocalist and musician from Chennai, who has accompanied leading dancers in India and has vast experience. The photographs of music recording sessions give one a glimpse into how thoroughly this job has been accomplished. The team of musicians, their background, the lyricists, her own translation  of 'The Doll Story' in Bengali 'Amar Putul' in raga Bageshwari and Tala Adi,  make a fascinating reading. In 'The Doll Story,' the choreography is as follows: 'The young dancer comes with her doll named Bharati in her arms, bounces her around and plays with her, expressing her love for her. The doll suddenly starts to speak. The dancer is surprised. This amuses her and she asks Bharati to come to her. The doll refuses  and runs away. The dancer searches for her but unable to find her, gets angry and in disgust blurts out that she is not going to play with her anymore. As she broods in frustration, the dancer finds Bharati quietly sitting in a corner with tears in her eyes. Filled with compassion at the doll's sad plight, she lovingly picks up Bharati and wipes her tears away. She tells her to be a brave and strong girl. Being thus reunited, Bharati and the dancer joyfully start to sing and dance, inviting the children from the audience to join them on stage.'
I have quoted this full text above and am further quoting Mamata's comments as follows:
"The item touches on all the nine emotions and by introducing the context of a situation most children are likely to be familiar with and have experienced, the young dancer can relate to these feelings she is being asked to transmit. Teaching abhinaya through this story has been a rewarding experience, as the young have just to be themselves while expressing the emotions. It also provides for a lot of movements - running after the doll to  catch her, searching for her crawling on hands and knees, swinging in a rhythmic pattern etc., which are beneficial for the development of multiple intelligences."
The item also becomes participatory when the dancer invites others from the audience to join them on stage. Mamata has also chosen folk Bengali tune as an introduction to rich heritage of folk music. I find this piece very interesting and it explains Mamata's approach to child friendly repertoire clearly.
Another interesting pada is 'Meri Chitthi' (Letter to Lord Nataraja). The posing of questions, thereby discovering attributes of Lord Shiva, and what is interesting is that it draws attention to dancer dancing non-dance movements. Mamata notes that she saw  'Cinq Pas Deux' choreographed by William Forsythe. Watching two dancers get into a mode of non-dance in the middle of one of the pas de deux, momentarily stopping to figure out their next steps as if in a rehearsal, reminded her of her own use of this element in 'Meri Chitthi,' and how it had brought out an added dimension in their creations. I agree with her.  How wonderful to be working with different styles of dance, Ballet in Forsythe's case and Bharata Natya in Mamata's. And it is interesting how creative choreographers think alike!
I have given only two examples of the imaginative range of the repertoire. The video recording of the entire repertoire was done in September 2004, when  Chennai based Bharata Natya dancer Srikanth, after summer residency at Kala Bharati in Montreal, had learnt all the refined choreographies from Mamata. The three months of hard work of mastering all items has shown excellent result in his dancing.  I also enjoyed seeing the photographs of the documentation of video recording.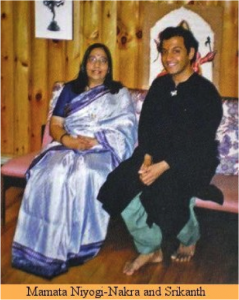 But it is the DVD which one has to see as a culmination of all this hard work. Also the  music is brought out in a CD by XXI-21 Records. The best tribute paid to this work of Mamata's can best be summed up in the words of Michel Laverdiere, a long time friend of Kala Bharati: "As you watch Srikanth on the DVD, perform this repertoire created by Mamata for young children learning the basics of Bharata Natya, you will soon get absorbed as if watching a Bharata Natya repertoire fitting any professional presentation and you will have to remind yourself that this is intended as a children's repertoire. As a full-blown oak is contained in one nutshell, the Bharata Natya possibilities are now contained in Shishu Sadhana."
The inter-active sessions with disciples of Mamata throw light on the subtleties of various items. For teachers who would like to adopt this repertoire for their individual chosen classical dance form like Kathak, Odissi, this interaction would show how disciples learn to notice the various details of the items choreographed.
Kala Bharati has in a spirit of generosity made the creative process as well as DVD available through free distribution. Mamata has always shared her work 'to think wide and reach out to the world.'
The book is designed well. It has a cover painting by Premola Ghosh of India International Centre, New Delhi; sketches by Sampa Ghosh, Ti-Kwew, and  detailed acknowledgement of each department is given at the end in Credits section. I strongly recommend all interested in training children in dance to posses a copy of the book, DVD and CD of music. The exercise which has been primarily done by Mamata, on the form of Bharata Natya can be extended to other classical dance forms on similar lines. Shishu Sadhana is a pioneering effort in that direction and it will be a boon for all children who love dance.
Readers can write to Dr. Mamata Niyogi Nakra at mamata@nakrabm.com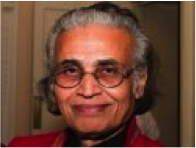 Dr. Sunil Kothari, dance historian, scholar, author, is a renowned dance critic, having written for The Times of India group of publications for more than 40 years. He is a regular contributor to Dance Magazine, New York. Dr. Kothari is a globetrotter, attending several national, international dance conferences and dance festivals. He has to his credit more than 14 definitive works on Indian classical dance forms. Kothari was a Fulbright Professor and has taught at the Dance Department, New York University; has lectured at several Universities in USA, UK, France, Australia, Indonesia and Japan. He has been Vice President of World Dance Alliance Asia Pacific (2000-2008) and is Vice President of World Dance Alliance Asia Pacific India chapter, based in New Delhi. A regular contributor to www.narthaki.com, Dr Kothari is honored by the President of India with the civil honor of Padma Shri and Sangeet Natak Akademi award.