Natyaangan has brought us in a virtual setting, assembled in a dance foyer,
located somewhere in cyberspace.
We offer our prayers to Lord Ganesha to help us work and grow with his blessings,
so that we continue to experience the joy of dance in all its glory and splendour.
In an act of daring, I ventured out to express my thoughts for the day in haiku,
consisting of three lines using words that would strictly total seventeen syllables in all.
I send you my greetings by sharing these pithy sayings
Ganesh chaturthi
nartana ganapati
dancing with us all
coming together
for puja at shaligram
jai vinayaka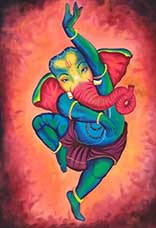 remove all hurdles
as we celebrate next year
pada namaste
dancing on the beat
always working and growing
tarikitatam
gifted by Gurus
pandanallur tradition
namah shivaya