I talked to Kyra Lober, my friend and associate with deep and strong roots in dance, about Kala Bharati's latest initiative related to dance acts and activism.   
A few days later, I was deeply touched to receive an email with a review from Kyra Lober  of her dance performance TAV in 1978, in which she added,  " I found this review while searching for something else...it sounds like everything I have been involved with my whole life...certainly reflects in the therapeutic sessions & retreats etc. I give....Just wanted to share it with you."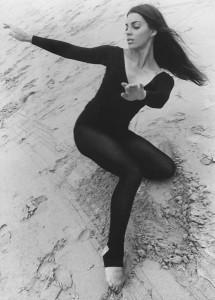 It revealed how early in Kyra's career as a dancer,  she had found her calling. I have known Kyra for sometime now. It will not be an exaggeration to characterise our meeting on the divine precincts of the famous Chidambaram Temple in India, as momentous. It was through a chance meeting for both of us with one of the devotees,  Paneerselvam Das, who provides service at in  the inner sanctum.The details of how he brought us together are too  personal and long winded to talk about here .
Born with an impeccable dance pedigree, Kyra is the daughter of American professionals Doris Greb and David Lober, both of whom have danced on Broadway, in films and the concert stage. While her mother danced for Bob Fosse on B' Way as well as with Dean Martin in Vegas as Dance Captain, her father, who is still alive, was one of Horton's dancers, performed in many B' Way shows and also performed as a lead dancer with Pearl Lang Company (Pearl was a soloist in Martha Graham Company). Both were members of Lotte Goslar's company as was Kyra's Godmother, Rosalind DeMille. These are just a few items of her parents varied and interesting careers.
I have shared many memorable moments with Kyra, but one  stands out as  a moment that  took my breath away. This is when Kyra handed a string of turquoise beads to me and said, "giving this to you as it is from Ruth St Denis  collection ….they are Egyptian and 2500-3000 years old . I know it will mean a lot to you ."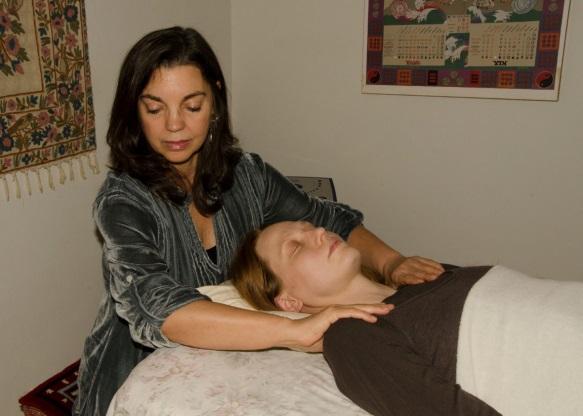 What has impressed me about Kyra is the exceptional work she has done as a professional dancer using her training and experience in developing dynamic approaches to healing, health and well being.
Kyra recently gave a week long workshop for Studio 303 on Somatic Alchemy Movement exploring the integration of Spirit/consciousness through anatomical systems of the body.
If you would like to know more about Kyra's work visit her website www.bodybeingheart.com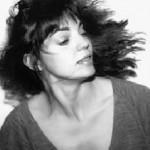 Kyra has wrapped herself around a core belief that one can use dance for betterment of life encompassing all the aspects:  physical, spiritual and material by creating Body Being and Heart for Somatic Alchemy. Aptly called The School of Transformational Arts, Body Being Heart,  underlines the point I wish to highlight as a dance activist. Dance has a role beyond performing, entertaining and the commonly held notion of being something that has to be on stage or screen,
You only have to look at what my friend, Kyra Lober has been involved with her whole life.
The New York Times: Kyra Lober Dances 'Tav'
- Don McDonagh, Jan.  1978
THE INWARD IMPETUS of Kyra Lober's dance performance almost made one feel like part of a closed‐circuit television audience. The emphasis was so emphatically on the self, its being and states of being that the outside world was momentarily blotted out. But Miss Lober's extreme skill and focus made Monday evening at the Cubiculo less an exercise in self‐infatuation than a quietly voiced personal revelation.
"Tav" was the overall title for the performance, which included musical interludes as well as accompaniment by the percussionists Bob Becker and Larry karusch, and each of the pieces reflected some aspect of personal discovery and expression.
In "Windings," Miss Lober explored the movements emanating from spinal twists and turns while seated. Her meditative. crosslegged posture helped concentrate all energy in the torso and head movements, drawing attention to weight shifts, breathing and placement that became fascinating elements in and of themselves.
"Astral Light" was. on the other hand, an unstructured improvisation that reveled in the sheer pleasure of dancing and dance movement, It told no story, but projected a warmth derived from the act of lyrical accomplishment. That same professionalism was visible in "Now" and "Mbira," which concluded the program.
The latter was an exercise in dervish turning that sustained a meditative mood easily and lightly while Mr. Becker plucked at the instrument of the same name. Their collaboration was one of the most sensitive that could be imagined with respect for individual skills and equal devotion to cooperative interplay.
The scope of the concert was limited, but the material presented was rigorously and sensitively examined without bombast or mindless repetition. The self was the subject, but by extension it included all of us.